Dedicated and passionate vacation planner and Disney traveler who will help take your vacation to "Infinity and Beyond"
My knowledge and my time, can take you places you've only googled….
Dedicated and passionate vacation planner who will help take your vacation to "Infinity and Beyond"
I am your go-to concierge for travels and adventure offering FREE personalized travel plans and itineraries throughout the globe. I will share my tips, tricks, dining knowledge and favorites with you as we plan your memorable getaway together, on your terms, your budget, and your interests.
Planning a family vacation is second nature to me. I'm married to an awesome guy who has allowed me to indulge in planning travel adventures for almost 2 decades of our togetherness. We are also parents to two active and creative teenage boys and two active dogs who once joined us on a 6 week road trip during the summer months.
Consistently ranked in the top 3 agents for annual sales for Must Love Travel group, and am proud to be the #1 agent of sales, consistently from 2017-2022.
I am a graduate of the Disney College of Knowledge, Certified Universal Vacation Planner & a Certified Sandals and Beaches Specialist. I'm a certified planner with several cruise lines and was voted for and honored over the last several years with the title "Best Travel Agent" in the Philadelphia Metropolitan region. I am also a certified family travel specialist overseeing family and multi-generational family travel.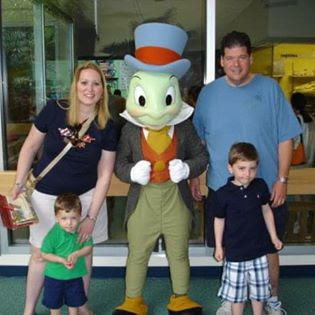 I am also a dedicated and passionate Disney traveler for over 40 years. As a child, a teenager, a young adult, and a parent, my travels have encompassed it all.
Specializing in Disney Destinations, Cruise Vacations, All-inclusive Resorts, Hawaii, Caribbean, girls weekends, family vacations, multi-generational reunions, bucket list travel, and much more; I will take your vacation to "Infinity and beyond".
Although I am a Disney travel addict, I've vacationed at Universal Studios Orlando, feed fish to the dolphins in Sea World, ventured in the wild at Busch Gardens….I've cruised several cruise lines, swan in cenotes in Mexico, climbed to the top of Chichen Itza, enjoy deep sea fishing in the Florida Keys and Cabo San Lucas, Mexico, biked down a volcano in Maui, vacationed at all-inclusive resorts in the Caribbean and Puerto Rico, spent time traveling through several countries in Europe, toured the Vatican Museums, sailed the canals of Venice, toured the Greek Islands, and walked the pathways of the iconic television series, Game of Thrones, through the walled city of Dubrovnik, Croatia.
I have a fondness for traveling and exploring new destinations with my family, children and friends.
Thanks for sharing your journeys with me. I couldn't do this without all of you and your continued ♥️ support!
---

---
Let's chat and find out what fabulous vacation is in store for you.
Planning together is fun and enjoyable so contact me to get started!
Wishing you a pixie-dust filled day!
"Crafting experiences and weaving them into the fabric of your memories….that's my goal and my business plan."
~ Cassandra Doyle
---

Cassandra Doyle
Call Toll Free: (866) 972-6244 ext 782
Text/Call Direct: (772) 494-1049
email:  cassandra@mustlovetravel.com
---